Agile Automation
Contact:
Dipl.-Ing.Dr.techn. Munir Merdan
Univ.-Prof. Dipl.-Ing.Dr.sc.techn. Georg Schitter
Current production systems possess only limited capabilities concerning quick adaption to unexpected internal and external occurrences. However, relevant industrial providers of automation systems express an increasing need for flexible and distributed automation solutions. Distributed intelligent control systems based on agent technology are regarded as a promising approach for coping with the dynamics of complex systems and for increasing their flexibility and fault tolerance.
The research of this group is concerned with multi-agent systems based on "Automation Agents". Their design enhances agent-based production systems and allows them to adapt their behavior according to the needs of the environment. The application of this approach supports efficient production planning and eases its design and implementation. Moreover, the system's structure enables a quick reaction on failures or overloads of components, e.g. with a reconfiguration of the system by determining alternative routes or machines considering the actual system condition. Thus the system is brought into a new state to better cope with the changed conditions and constraints. This is especially of importance regarding the minimization of downtimes and therefore costs. Furthermore, this architecture allows an automatic reconfiguration of the control software on the component level to react on changing production conditions. Additionally, this approach enables the realization of plug-and-play components which require reconfigurable control software on multiple layers. To increase the acceptance of agent technology in the industry, the following research goals are pursued: a platform independent connection of the multi-agent system to industrial controllers, extensive tests of the multi-agent system on existing laboratory equipment (transport system, batch process plant, and smart grids demonstrator) for validating and proving the system?s stability, reliability and scalability, as well as the development of tools, technologies and methods for the easier design and operation of agent-based systems.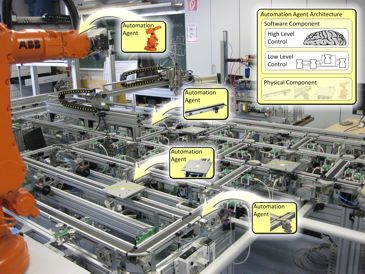 The vision is to develop a fully automated production system based on Automation Agents, which autonomously adapts itself according to the specific requirements and constraints for producing a given product.