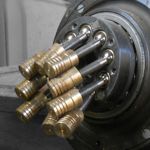 Modeling and control of hydraulic drive systems
Project focus
Mathematical modeling of hydraulic systems, in particular of axial piston pumps
Adaptive nonlinear control of axial piston pumps
Optimal model-predictive control strategies for axial piston pumps
Application to a hydraulic hybrid drive train
Description
Hydraulic drive systems are widely spread in many industrial applications. This results from their high power density while featuring a small size and weight. The control of hydraulic systems is typically performed by means of valves, which allow to reach very fast dynamics of the closed loop system. However, utilizing valves to control hydraulic systems also incorporates relatively large energy losses.
To increase the energy efficiency, variable displacement pumps and motors are considered in this research project. In particular, axial piston pumps with swash plates are considered, which allow for a continuous and fast change of the volume flow by tilting the swash plate, cf. Fig. 1. Optimal control strategies for the swash plate angle are developed in a research cooperation with Robert Bosch GmbH, which are the basis for a control of the volume flow, the pressure or the torque of the machine.
One challenge for the design of control strategies for axial piston pumps are the pronounced nonlinear behavior of the system and fast changing external loads. A nonlinear adaptive control strategy, including an estimation strategy for the unknown load, was developed for axial piston pumps with fast changing loads. Furthermore, nonlinear model-predictive control strategies are developed to allow for a systematic incorporation of the nonlinearities and constraints of the system. The internal, non-measurable states, which are necessary in the control strategies, are obtained by a nonlinear estimation strategy. It has already been shown that it is possible to implement such a nonlinear model-predictive control strategy in real-time with a sampling time of 1 ms on an industrial real-time hardware.
Based on the optimal control of the swash plate angle, extended control strategies e.g. for the rotational speed of the axial piston machine are developed. A possible application, which was considered in a research cooperation with Robert Bosch GmbH, is a hydraulic hybrid drive train, see Fig. 3. This system comprises an internal combustion engine and a hydraulic drive train with two axial piston machines (APU). To regenerate brake energy, oil can be stored in a hydraulic piston accumulator. In this research project, mathematical models for the system and estimation strategies for the state of charge of the piston accumulator were developed. Moreover, an optimal (model-predictive) control strategy was proposed for certain configurations of the drive train, which allow to accurately follow the driver's demand while minimizing the energy losses at the same time.
Selected publications
Project partner