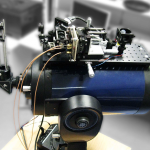 SatComScope
Project focus
Analysis of free-space optical communication properties and requirements.
Development and integration of an adaptive optical compensation system for free-space optical communication into a small telescope.
Dual stage actuation of the adaptive optical system and the telescope mount.
Description
This project aims to integrate adaptive optics (AO) technology into small to medium-sized telescope systems of the industrial partner, ASA Astrosysteme, in order to enable free space optical (FSO) communication between satellites and optical ground stations. Compared to radio-frequency communication, this yields a potential increase of the data rate of more than 1 order of magnitude, while simultaneously significantly reducing the emitting power and weight on the satellite. Furthermore, optical frequencies do not require licensing.
Based on an integrated, mechatronic approach, the proposed AO system focuses on high performance and cost efficient realization to enable FSO communication with small to medium-sized telescopes operating as optical ground stations. The resulting telescope system will provide a stable laser-link between corresponding satellites and the developed optical ground station, enabling FSO communication at unprecedented data rates, while simultaneously reducing energy consumption of the emitter at the satellite.
System analysis
Atmospheric turbulences, as well as vibrations of the telescope system, significantly affect the performance of optical communication links. To ensure a reliable satellite link with high data-rates and low BER, these disturbances are compensated by means of an adaptive optical system. A key trade-off is the system complexity vs. compensation performance. Especially for small telescopes a shift towards low-order aberrations is visible. All above tip-tilt aberrations may contribute up to 80% of the total wavefront error, hence requiring a powerful tip-tilt compensation system.
"Ultra low earth orbit (U-LEO)" link
To evaluate various AO approaches a reflective FSO communication link is available between two buildings of TU Wien. A two way distance of 600 m in urban environment provides harsh conditions for the developed systems.
Optical system for U-LEO link
A 35 cm SC-telescope is used as receiving antenna for the urban link. A combination of tip-tilt compensation (FSM+QPD) and adaptive optical system (DM + WFS) is used to test various correction approaches.
Tip-tilt correction for the U-LEO link reveals a significant improvement of the RMS errors, as shown below. The blue curves show the movement of the received spot on the QPD without correction. After 30 s correction is enabled and the deviations are compensated.
Mobile optical bench
To enable evaluation of the developed tip-tilt compensation systems with various telescopes at different sites, a mobile version of the optical system is developed. It is designed, to be easily adapted and attached to telescope systems at TU Wien as well as at ASA Astrosysteme.
Tip-tilt compensation for LEO object tracking
Below two videos recorded during the same pass of the LEO object COSMOS 2315 are shown for comparison. Without tip-tilt compensation and open-loop tracking of the telescope mount an offset as well as fluctuations of the spot position are visible. If tip-tilt control is enable, both offset and fluctuations are compensated, keeping the center of the spot on a communication detector.
Video of a LEO object acquired with the AZ800 telescope without and with compensation.
The pointing error as well as the position fluctuations of the spot are significantly reduced.
Applications
Optical satellite communication
Astronomy applications
Satellite laser ranging
Related Publications
A. Sinn, T. Riel, F. Deisl, S. Schachner, and G. Schitter,

High-bandwidth tip-tilt vibration compensation in telescope systems

, in Proceedings of the Joint Conference 8th IFAC Symposium on Mechatronic Systems (MECHATRONICS 2019), and 11th IFAC Symposium on Nonlinear Control Systems (NOLCOS 2019), 2019.
[BibTex] [Download]

@InProceedings{TUW-282537,
author = {Sinn, Andreas and Riel, Thomas and Deisl, Florian and Schachner, Stephan and Schitter, Georg},
title = {High-bandwidth tip-tilt vibration compensation in telescope systems},
booktitle = {Proceedings of the Joint Conference 8th IFAC Symposium on Mechatronic Systems (MECHATRONICS 2019), and 11th IFAC Symposium on Nonlinear Control Systems (NOLCOS 2019)},
year = {2019},
volume = {52/15},
note = {Vortrag: Joint Conference 8th IFAC Symposium on Mechatronic Systems (MECHATRONICS 2019), and 11th IFAC Symposium on Nonlinear Control Systems (NOLCOS 2019), Wien; 2019-09-04 -- 2019-09-06},
doi = {10.1016/j.ifacol.2019.11.733},
url = {https://www.sciencedirect.com/science/article/pii/S2405896319317276?via%3Dihub},
journal = {IFAC-PapersOnLine/Elsevier},
keywords = {Vibration compensation, telescopes, optical communication, fast steering mirror, tip-tilt compensation},
numpages = {6}
}
A. Sinn, T. Riel, P. Kremsner, and G. Schitter,

Analysis of tip-tilt compensation for reflective free-space optical satellite communication

, in Free-Space Laser Communications XXXI, 109101G, 2019.
[BibTex] [Download]

@InProceedings{TUW-282538,
author = {Sinn, Andreas and Riel, Thomas and Kremsner, Peter and Schitter, Georg},
title = {Analysis of tip-tilt compensation for reflective free-space optical satellite communication},
booktitle = {Free-Space Laser Communications XXXI},
year = {2019},
address = {109101G},
publisher = {SPIE},
note = {Vortrag: SPIE Photonics West 2019, San Francisco, California, USA; 2019-02-02 -- 2019-02-07},
doi = {10.1117/12.2506472},
keywords = {optical satellite communication, adaptive optics, tip-tilt compensation, dynamic error budgeting},
numpages = {12}
}
Project partners
Funding