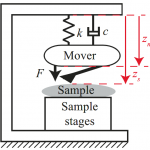 Atomic Force Microscopy using self-sensing cantilevers
Description
In Atomic Force Microscopy (AFM), micro-cantilevers with a sharp tip are scanned over a sample to measure various surface properties with nanometer resolution. The measurement of the cantilever deflection is a crucial part, which defines the imaging performance of AFM. Self-sensing cantilevers with integrated piezoresistive or capacitive elements enable a direct and efficient deflection measurement and are a promising alternative to the conventional optical lever method. This project aims at enabling novel AFM methods and applications by exploiting the advantages of self-sensing cantilevers.
Integrated demodulation for dynamic measurement modes
In most AFM measurement modes, the cantilever is mechanically excited at its resonance frequency and the resulting oscillation is modulated by the tip-sample interaction forces. Therefore, the demodulation of the cantilever oscillation is required to obtain sample properties. Utilizing a piezoresistive detection scheme where the deflection is converted to a change of the electrical impedance, the demodulation can be integrated in the sensor electronics, which enables a simplified measurement of the oscillation.
Mechatronic system design for long-range high-bandwidth AFM
The application of AFM for in-line metrology requires large vertical motion of the AFM cantilever not only for high topography measurement, but also for compensation of sample height uncertainties (e.g. thermal expansion during AFM operation). However, the actuation range and control bandwidth of the cantilever's vertical motion are restricted in a tradeoff, influenced by the actuation type and mover mass. Using integrated self-sensing cantilevers with small mass in combination with electromagnetic actuators and an optimized flexure design, a long-rage high-bandwidth AFM is developed.
Applications
AFM for in-line metrology
Compact and integrated AFM systems
Related Publications
M. Poik, D. Kohl, M. Mayr, C. Kerschner, and G. Schitter,

A Mechatronic Lock-In Amplifier: Integrating Demodulation in Sensor Electronics for Measuring Mechanical Oscillations

, IEEE Transactions on Instrumentation and Measurement, vol. 70, pp. 1-8, 2021.
[BibTex] [Download]

@article{TUW-292319,
author = {Poik, Matthias and Kohl, Dominik and Mayr, Mario and Kerschner, Christoph and Schitter, Georg},
title = {A Mechatronic Lock-In Amplifier: Integrating Demodulation in Sensor Electronics for Measuring Mechanical Oscillations},
journal = {IEEE Transactions on Instrumentation and Measurement},
year = {2021},
volume = {70},
pages = {1-8},
doi = {10.1109/TIM.2020.3047208},
keywords = {Demodulation, Lock-In Amplifier, Resonant sensor, Cantilever, AFM}
}
M. Poik, D. Kohl, M. Mayr, C. Kerschner, and G. Schitter,

Efficient Demodulation for Measuring the Amplitude of Mechanical Oscillations

, in Proceedings of the IEEE International Instrumentation and Measurement Technology Conference (I2MTC 2020), 2020.
[BibTex] [Download]

@inproceedings{TUW-291330,
author = {Poik, Matthias and Kohl, Dominik and Mayr, Mario and Kerschner, Christoph and Schitter, Georg},
title = {Efficient Demodulation for Measuring the Amplitude of Mechanical Oscillations},
booktitle = {Proceedings of the IEEE International Instrumentation and Measurement Technology Conference (I2MTC 2020)},
year = {2020},
numpages = {5},
doi = {10.1109/I2MTC43012.2020.9129045},
keywords = {Demodulation, Resonant sensor, Cantilever, AFM},
note = {Vortrag: IEEE International Instrumentation and Measurement Technology Conference Proceedings I2MTC (2020), Dubrovnik, Kroatien; 2020-05-25 -- 2020-05-28}
}
S. Ito, M. Poik, J. Schlarp, and G. Schitter,

Atomic Force Microscopy Breaking Through the Vertical Range-Bandwidth Tradeoff

, IEEE Transactions on Industrial Electronics, 2020.
[BibTex] [Download]

@article{TUW-288567,
author = {Ito, Shingo and Poik, Matthias and Schlarp, Johannes and Schitter, Georg},
title = {Atomic Force Microscopy Breaking Through the Vertical Range-Bandwidth Tradeoff},
journal = {IEEE Transactions on Industrial Electronics},
year = {2020},
numpages = {9},
doi = {10.1109/TIE.2020.2982113},
keywords = {Atomic force microscopy , Mechatronics , Nanopositioning , Precision engineering , Design for control}
}