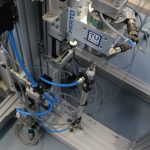 Optimal Control of pneumatic linear drives
Project focus
Optimal control of nonlinear MIMO systems
Energy saving
Experimental verification
Description
The demands on today's production regarding progressive flexibility and cost reduction as well as resource-efficiency require new approaches in each part of a production line.
Nowadays, pneumatics is popular in various industries, in particular in automation technology, pneumatic actuators are widly used.
Future pneumatic linear drives have to realize fast point-to-point positioning with high accuracy and minimal sensor effort at minimum energy consumption. The use of an inexpensive, discrete distance measurement, instead of a costly continuous position sensor, represents a challenge for the controller design for point-to-point movements. The lack of continuous position information must be compensated by an intelligent control of the drive.
In this project, low-cost switching valves are used to control linear pneumatic drives. The aim of this project is to design an optimal control strategy for the valves in order to accomplish a point-to-point motion of the piston actuator. Here, time-optimal and energy-efficient positioning of the piston is required, which is robust against fluctuations in the supply pressure and changing load forces.
Applications
Production lines
Handling systems
Selected publications
A. Pfeffer, T. Glück, and A. Kugi,

Soft Landing and Disturbance Rejection for Pneumatic Drives with Partial Position Information

, in Proceedings of the 7th IFAC Symposium on Mechatronic Systems & 15th Mechatronics Forum International Conference, Loughborough, UK, 2016, p. 559–566.
[BibTex] [Download]

@InProceedings{Pfeffer16a,
author = {Pfeffer, A. and Gl\"uck, T. and Kugi, A.},
title = {Soft Landing and Disturbance Rejection for Pneumatic Drives with Partial Position Information},
booktitle = {Proceedings of the 7th IFAC Symposium on Mechatronic Systems \& 15th Mechatronics Forum International Conference},
year = {2016},
volume = {49},
number = {21},
month = {9},
pages = {559--566},
doi = {10.1016/j.ifacol.2016.10.661},
address = {Loughborough, UK},
issn = {2405-8963},
}