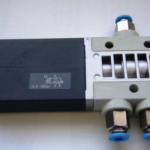 Soft landing strategies for electromagnetic fast-switching valves
Project focus
Time-optimal feedforward controller design for soft landing
Description
The increasing cost pressure on mechatronic products in fluid power applications demands the development of cheap and reliable electromagnetic control valves. In servo control of pneumatic piston cylinders, for instance, the expensive directional control valve may be replaced by a pneumatic full bridge consisting of low-cost fast-switching valves. In other industrial applications, like for example in the food industry, fast-switching valves are utilized to perform sorting tasks with the ever increasing demand for higher cycle times and a longer lifetime. Thus in all these applications, electromagnetic valves must exhibit fast valve switching times in order to achieve a high bandwidth and a maximum throughput. At the same time, a minimum impact velocity of the valve plunger has to be guaranteed to reduce noise and wear of the mechanical components. Strategies ensuring a minimum impact velocity of the valve plunger are frequently called soft landing strategies.
This project is concerned with the development of a soft landing control strategy that guarantees the time-optimal switching of electromagnetic valves with minimal impact velocity of the plunger at the limit stops.
The feedforward controller is based on the formulation of an input-constrained, time-optimal control problem for the point-to-point motion of the plunger. For this purpose, a mathematical model of a fast-switching valve is derived and the quasi-time-optimal and the time-optimal case are examined. In addition to the numerical solution of the quasi-time-optimal control problem utilizing a full-discretization, the input-constrained time-optimal control problem is reformulated by applying Pontryagin's maximum principle providing an equivalent two-point boundary value problem. In this representation, it is evident that the input-constrained and time-optimal solution for the opening and closing of the valve is a bang-singular-bang control.
Measurement results at a test bench confirm the theoretical results and demonstrate the feasibility of the proposed approach. Fig. 1 shows the bang-bang input control for the opening and the resulting position and velocity of the plunger. This optimal feedforward control concept has been applied for a patent and is going to be implemented in the series production by the industrial partner.
Selected publications
Applications
Pneumatic drives
Food industry