19.05.2022 Best Paper Award for Dr. Ernst Csencsics and Johannes Schlarp
Dr. Ernst Csencsics and Johannes Schlarp received the Best Paper Award for their paper " Simulation and Reduction of Speckle-induced Uncertainty in Laser Triangulation Sensors" (E. Csencsics, J. Schlarp, T. Glaser, T. Wolf, G. Schitter) at the IEEE International Instrumentation and Measurement Technology Conference 2022 in Ottawa, Canada (May 16-19, 2022).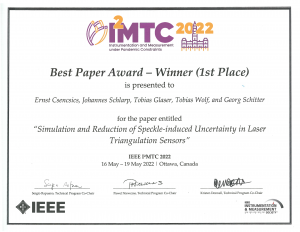 06.05.2022 Auszeichnung durch SEW Eurodrive Stiftung
22.04.2022 Preis der Stadt Wien für hervorragende Diplomarbeiten an T. Scherzer
27.01.2022 Sub auspiciis Promotionen
23.12.2021 Fakultätspreis 2021 an ACIN
20.12.2021 Gerfried Zeichen-Preis an G. Forstner
29.07.2021 KROS 2021 Best Paper Award
The paper "Robot perception of static and dynamic objects with an autonomous floor scrubber" (Z. Yan, S. Schreiberhuber, G. Halmetschlager, T. Duckett, M. Vincze, N. Bellotto) summarizes the research results of the H2020 supported project FLOBOT and has been published in the Intelligent Service Robotics Journal (Intel Serv Robotics 13, 403–417 (2020).
The Korea Robotics Society (KROS) has presented the ISR 2021 Best Paper Award to this publication.
06.07.2021 Auszeichnung durch SEW Eurodrive Stiftung
21.06.2021 ARW21 Best student paper award
As part of the Austrian Robotics Workshop 2021, the Instrumentation & Measurement Chapter of the IEEE Austria Section presented the Best Student Paper Award to the contribution "Evaluation of educational robotics activities with online simulations" (authors: Georg Jäggle, Richard Balogh, Clemens Koza, Wilfried Lepuschitz and Markus Vincze), a publication of the RoboCoop project (co-funded by European Union funds (ERDF).
07.06.2021 Sub auspiciis Promotion von Dr. Christian Hartl-Nesic