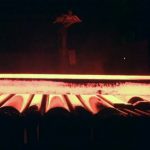 Thermal model and optimal time scheduling of hot rolling
Project focus
Modeling of the temperature evolution of plates during hot rolling
Observer design based on pyrometer measurements
Optimization of processing times
Description
In the production of heavy plates, it is important to know the current temperature of the product and to adjust it by adaptation of process times. The temperature evolution is decisive for the production process because many mechanical properties of the product are temperature-dependent, e.g., the yield stress. Furthermore, the temperature evolution also influences the microstructure and thus other important material properties of the final product.
The production steps of hot rolling influence the plate temperature in different ways: On the one hand, the plate temperature decreases due to air cooling or the contact with water and the work rolls. On the other hand, the deformation in the roll passes leads to a rise of the plate temperature. The thermal model has to capture these different aspects.
By means of the thermal model, the waiting periods that are necessary for the plates to reach their desired rolling temperatures in each pass can be calculated with higher accuracy. Consequently, not only a higher quality of the final product can be achieved, but the production process can also be organized more efficiently because the waiting times can be planned more precisely.
To cope with model inaccuracies or unexpected disturbances, a model-based observer corrects the model predictions. The observer uses measurements of the product surface temperature. As contact measurements are infeasible due to the moving surfaces and the difficult measurement conditions, the surface temperature has to be measured by pyrometers. However, these pyrometer measurements are only feasible at discrete points outside the mill stands. The scarcity of measurements is an additional challenge for the observer design.
Selected Publications
Applications
Automation of rolling mills
Scheduling of cooling processes