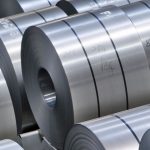 Modeling, observer design, control, and optimization of strip annealing furnaces
Project focus
Mathematical modeling of a strip annealing furnace
Observer design for unknown process variables
Development of a control strategy for accurate heating of the strip
Description
In the steel industry, continuous strip annealing furnaces are used for the heat treatment of strip products. To ensure a continuous operation of the furnace, the strips are welded together to form an endless strip. The heat treatment requires a large amount of energy, is cost-intensive, and has a direct impact on the product quality.
To meet the high demands on the quality of the final product, the strip has to be heated to a predefined target temperature while it moves through the furnace. Since an annealing furnace is a complex thermodynamic system with multiple inputs, multiple outputs and diverse interdependencies, strip temperature control is a challenging task. This task is further complicated by a small number of available measurements, restrictions on the inputs and the process quantities, an increasing diversification of the product portfolio as well as increasing demands in terms of product quality and throughput.
In this project, an optimization-based control concept for the strip temperature of a combined direct- and indirect-fired annealing furnace was developed and implemented at a pilot plant of voestalpine Stahl Gmbh in Linz, Austria. The nonlinear model predictive controller selects optimal values for both the fuel supply and the strip velocity so that the strip temperature follows its desired trajectory. In addition, the controller maximizes the product throughput and minimizes the energy consumption.
The basis of the controller for the strip temperature is a mathematical model of the considered annealing furnace. Mol, mass, and enthalpy balances, constitutive equations, and numerical discretization methods were used to formulate this model. An ad-hoc state estimator is used to estimate process quantities and material parameters, e.g., the strip emissivity, which cannot be directly measured.
Selected publications
Applications
Industrial furnaces
Continuous production systems