Scientific Instrumentation and Process Measurement: Mechatronic Imaging Systems
Contact:
Univ.-Prof. Dipl.-Ing.Dr.sc.techn. Georg Schitter
Dr. Peter Chang

One research focus of the Industrial Automation Group at ACIN is on improving the performance of mechatronic imaging systems, such as scanning probe technology, smart camera systems, and adaptive optics, by means of mechatronics, systems integration, control, and automation. The main objective is to enable accurate measurements, imaging, material characterization, and manipulation from macroscopic industrial systems down to the molecular level. This includes the development of an integrated mechatronic design approach, where already at the system design phase all components involved in the specific application have to be considered. Examples for these components are the mechanical structure of the device as well as the power amplifier, the actuators, the sensors, the electronics, the real-time control system, and the specifications arising from the particular applications (see Fig. 1).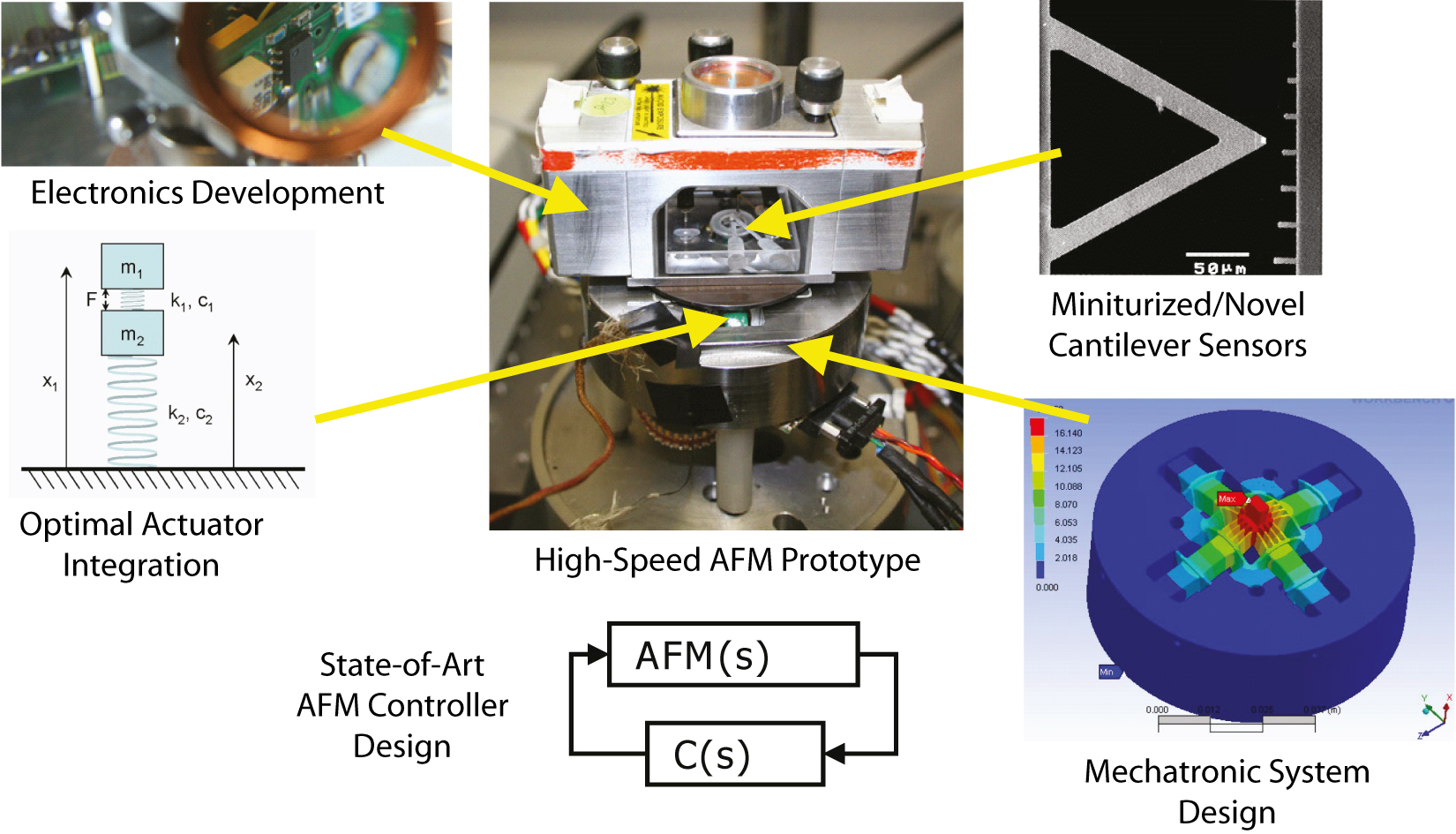 &nbsp
Fig. 1: Imaging mechatronics is a multi-disciplinary research domain. Systems integration is an important factor for obtaining high performance.


Scanning Probe Microscopy:
Nanotechnology is one of the key technologies for the twenty-first century, with the potential of fundamental breakthroughs in areas such as materials science, environmental science, and the life sciences. However, it is crucial to have systems that provide full insight and control down to the molecular level. Scanning probe microscopes and in particular atomic force microscopes (AFM) (see Fig. 2) fulfill these requirements, since they enable to image with (sub-) nanometer resolution under all environmental conditions.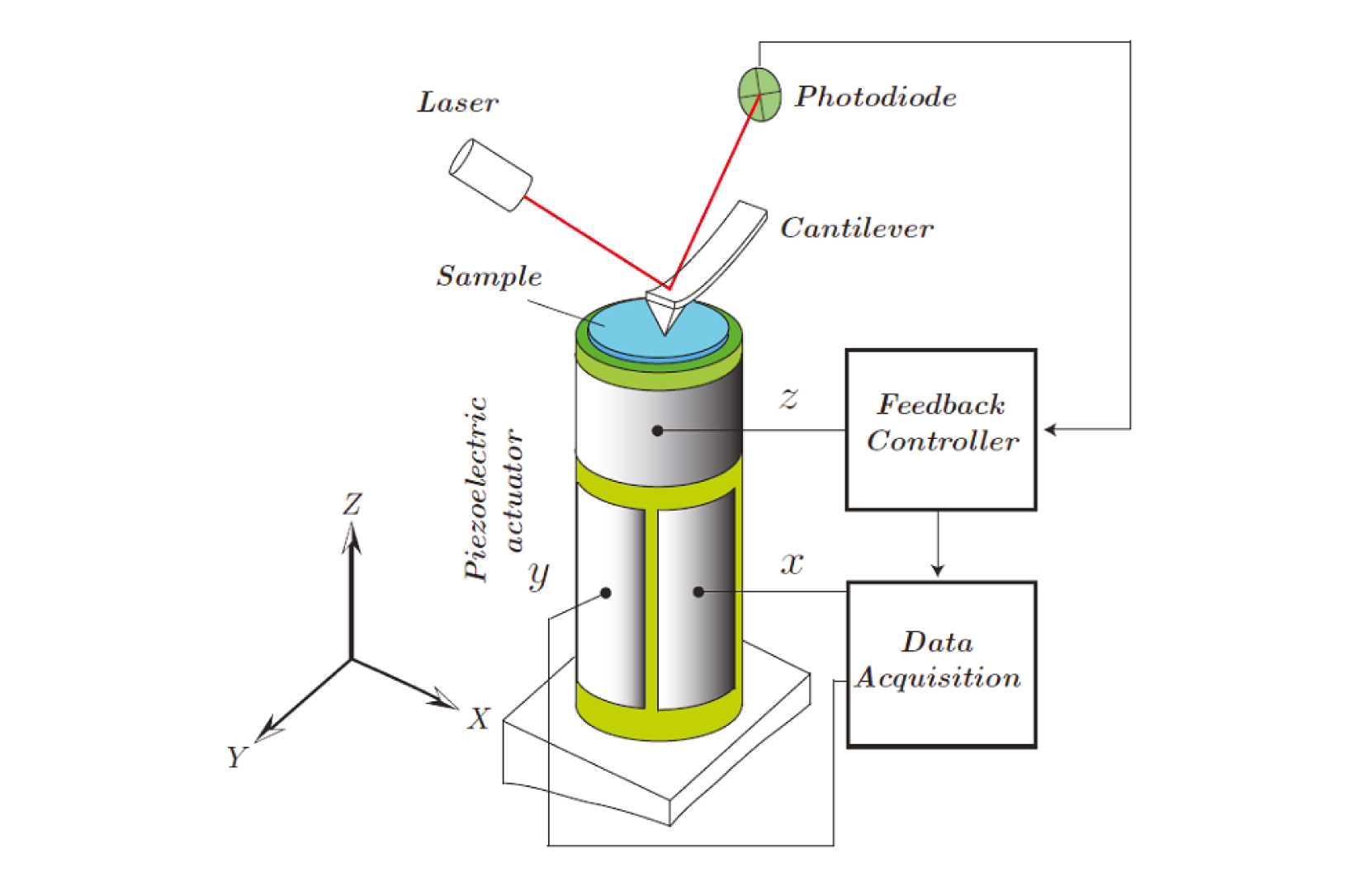 &nbsp
Fig. 2: Schematics of AFM operation. A very sharp tip is mounted on a soft micro-cantilever and probes the sample surface profile (in Z-axis) while moving the tip laterally (in the X-Y-plane) in a raster scanning pattern. By maintaining a constant tip-sample interaction force via feedback operation and recording the measured cantilever deflection and feedback action (in Z-direction) as a function of the X-Y-position and image of the sample topography is obtained.
Video-rate AFM:
An ongoing research project is instrumentation of atomic force microscope (AFM) systems with highest temporal resolution while maintaining the nanometer imaging resolution. This yields a very interesting and challenging research problem in mechatronics and control. Basically a mechatronic system including the mechanical design, actuators, sensors, and control system with a bandwidth in the Megahertz range and a precision in the sub-nanometer range has to be implemented.
To date, this research has resulted in a high-speed AFM system that can image three orders of magnitude faster [I1] than conventional AFMs, reducing the measurement time per image from several minutes to tens of milliseconds. One goal of this research is to enable for the first time the direct video-rate observation (25 images/s and beyond) of chemical and biological processes on the molecular level as they occur in nature. Another drive for this research is to increase the throughput where (automated) AFM systems are used in industry, e.g. for quality engineering in the production of semiconductor devices, nano-scale coatings, or solar cells and displays.

&nbsp
Fig. 3: This series of images of rat tail collagen illustrates how video-rate AFM is zooming in on area of interest rapidly [I1]. Collagen?s characteristic 67 nm banding pattern is clearly resolved. This entire zoom process was taken in less than 1 second. Conventional AFM would have taken over 15 minutes to complete the series.


Material Characterization and new Measurement Modes:
Besides imaging on the molecular level in real-time, additional goals of our research on scanning probe instrumentation are to develop tools and methods for advanced material characterization. This instrumentation is focused on the development of micro-cantilever based measurement systems for quantitative topographical, mechanical, chemical, and electrical characterization in materials science applications. The envisioned goal is to obtain full (collocated) information of several sample properties with high spatial resolution, preferably obtained simultaneously in one measurement run.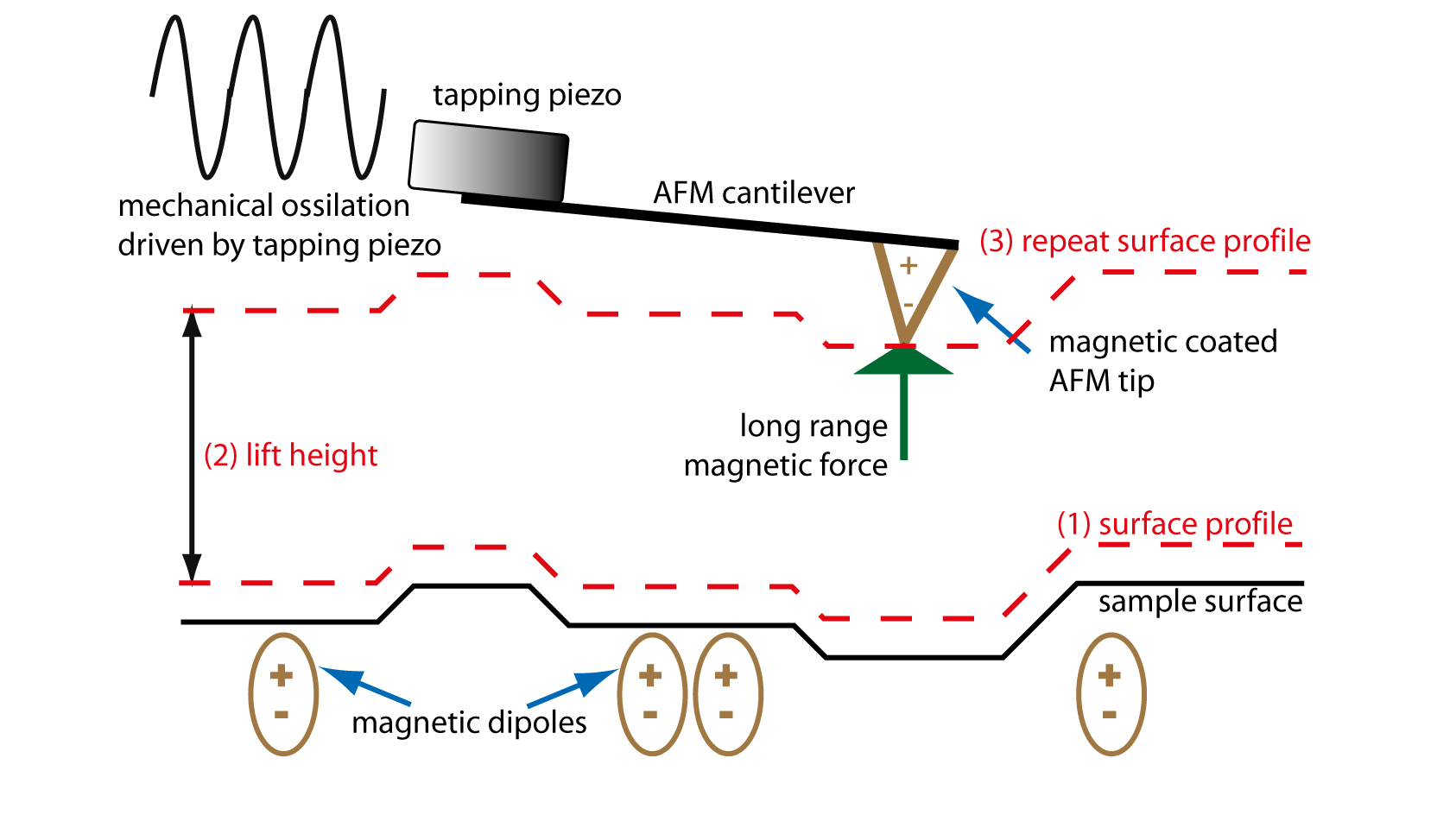 &nbsp
Fig. 4: Magnetic Force Microscopy (MFM) measurement process. Every scan-line of the raster-scanning pattern is repeated twice. (1) In the first run of the respective scan line, the sample topography is measured. (2) The AFM tip, which is coated with a ferromagnetic material, is lifted off with a pre-defined distance. The same scan line is repeated (3) while maintaining a constant lift height by feeding forward the measured sample profile. By oscillating the cantilever at resonance the magnetic tip-sample interaction forces are measured with high spatial resolution.


We also focus on using Magnetic Force Microscopy (MFM) principle (Fig. 4), to identify ferromagnetic particles that are embedded underneath the sample surface. One application of this research aims at utilizing AFM systems at a remote location with a fully automated function, such as a lunar mission [I2], where multi-mode measurements have to be obtained with minimal parameter tuning. Our experiments here investigate both sample preparation and the MFM measurement process parameters. The result obtained is focused on identifying the precise location of the scanned particles and recognizing particle acclamation patterns [I2]. First MFM images of these ferromagnetic particles (Fig. 6) clearly show embedded single and conglomerate particles.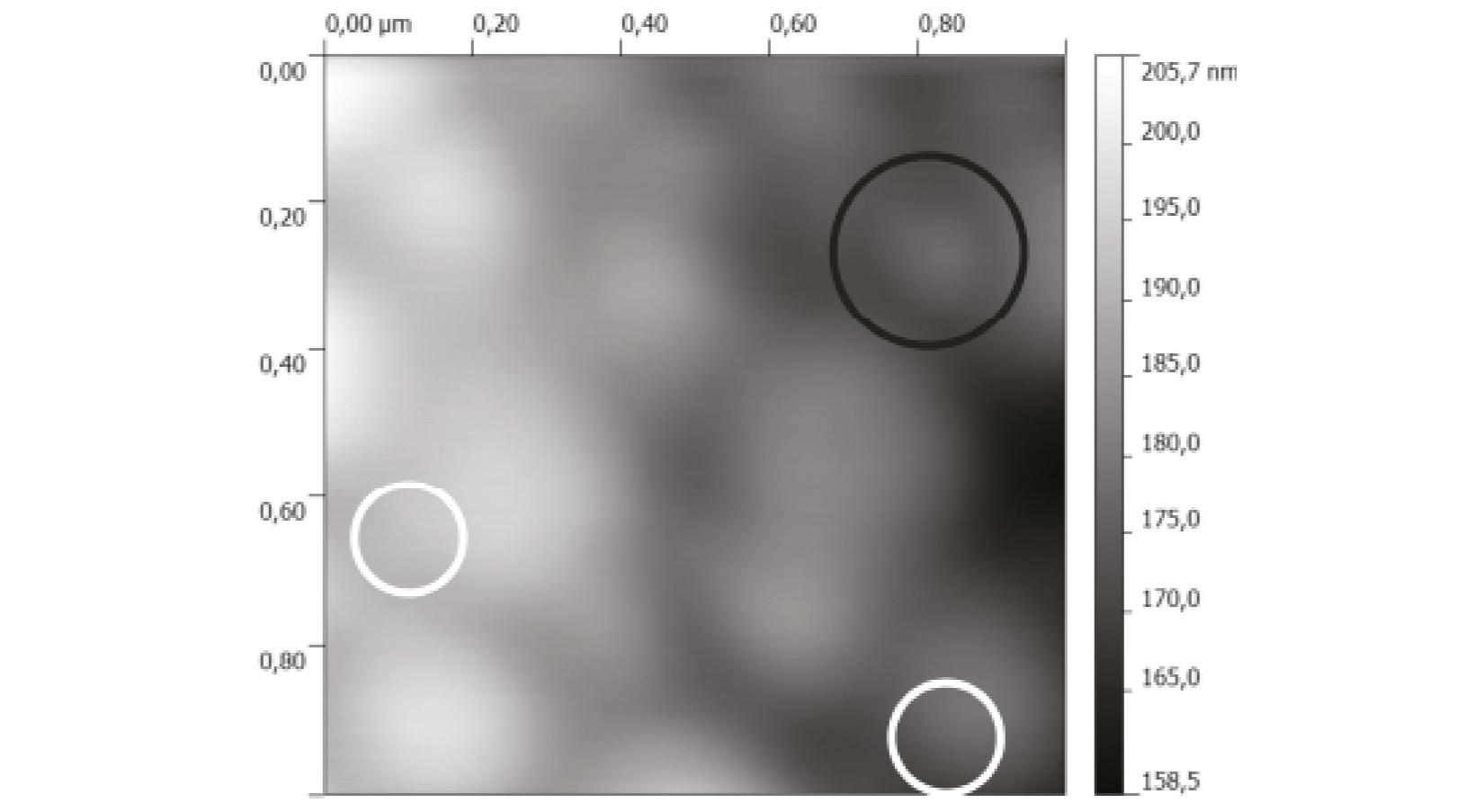 &nbsp
Fig. 5: AFM height image showing surface profile of the sample. The ferromagnetic nanoparticles are embedded underneath, as marked by the white and black circles. These particles are clearly observed in Fig. 6 but not obvious here.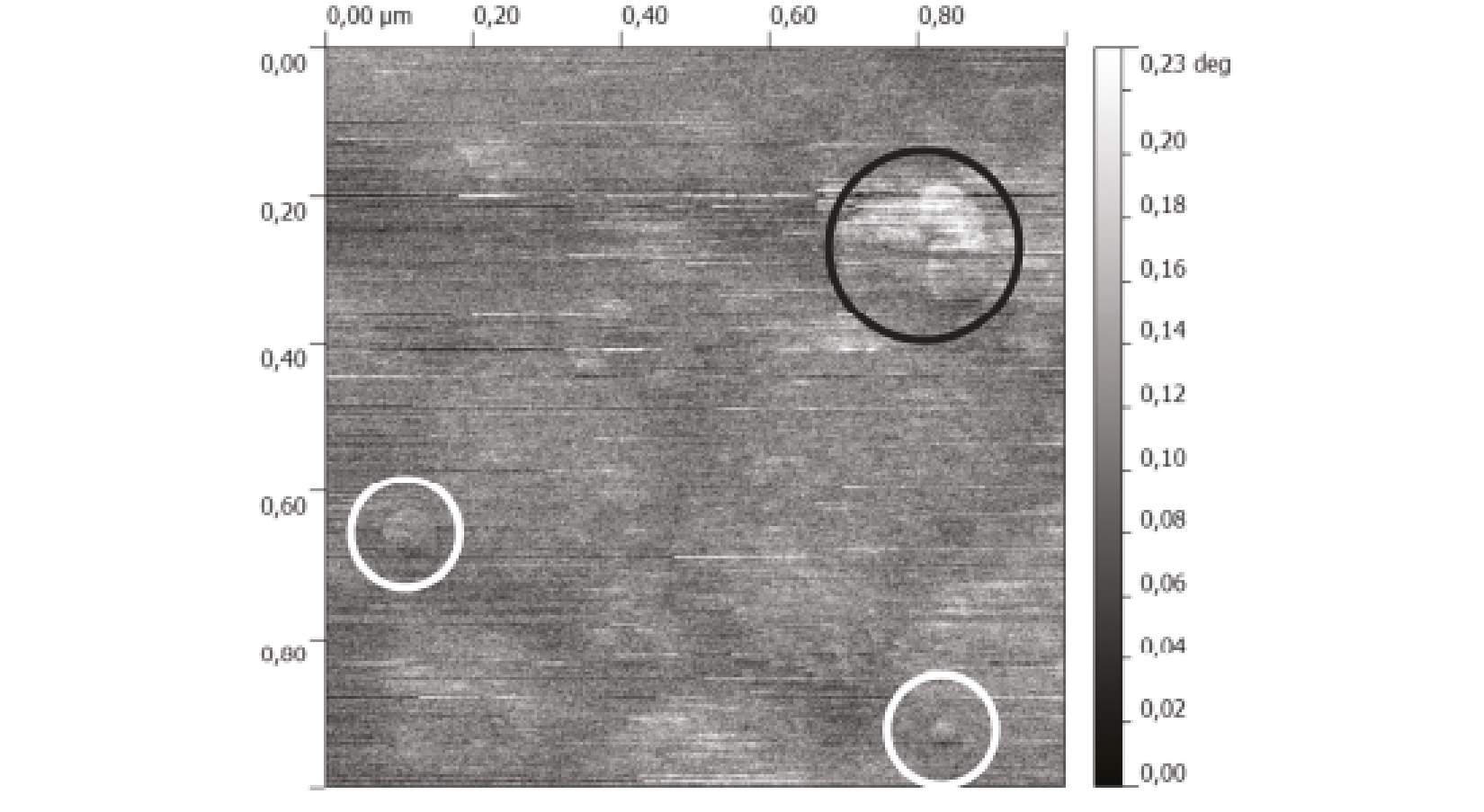 &nbsp
Fig. 6: MFM phase image showing the embedded ferromagnetic nanoparticle underneath sample surface. The white circles indicate position of single nanoparticles, and the black circle shows the conglomerate of these particles.


Automation of AFMs and new Probes:
Our research effort also target novel AFM systems that integrate more automation, adaptability and miniaturization in the AFM system design. Due to its operational principle (Fig. 2), current commercial AFM systems are not available as a turn-key product. A lot of experience is still required for the AFM operator to acquire reliable imaging results. Besides detailed understanding of the basic AFM measurement principles, AFM users currently also need be trained to handle AFM tip/cantilever exchange, laser system alignment, and scan (measurement) parameter optimization, just to get started.
Reducing the manual processes not involved in the measurement itself is one of our objectives in order to fully automate these AFM systems, thus reducing user interaction during setting up the AFM system and experiment to a minimum.
One approach for improving the ease-of-use and step towards AFM automation for industrial applications is to utilize self-sensing cantilevers, rendering the error prone laser alignment obsolete. For example, we are investigating the integration of Akiyama-Probes (A-probe) as well as the all optic integrated ferrule-top probes (Fig. 7) into AFM systems. When using cantilevers that are self-sensing, there is no longer need for the traditional laser alignment process. An important aspect we are researching is the self-sensing probes? performance for various imaging modes and for fast scanning AFM. In parallel we also develop algorithms and system automation that allow automated alignment and adjustment of the optical-lever-based deflection measurement used in conventional AFMs.

&nbsp
Fig. 7: Schematic illustration of two self-sensing AFM cantilever probes. (Left) Akiyama AFM cantilever (A-probe) is a cantilever that is attached onto a tuning fork. By actuating and monitoring the tuning fork, this probe is self-sensing and self-actuating. (Right) Ferrule-top cantilevers are carved directly from all optic ferrule glass, along with an inserted optical fiber. A laser guided by the fiber is shone onto the coated cantilever and can be used to directly readout the cantilever deflection.


Adaptive Optics and Optical Metrology:
Recent breakthroughs in scientific instrumentation significantly have improved the resolution of optical imaging systems, such as (scanning) optical microscopy, where Adaptive Optics (AO) is an emerging technology. The overall imaging resolution is improved by compensating for aberrations in the optical path via wavefront manipulation of the incoming light by means of active elements, such as (micromechanical) deformable mirrors (see Fig. 8) or spatial light modulators. Here mechatronic system design and modern control engineering also indicate huge innovation potential to enhance system performance in terms of speed, resolution, and versatility.
Our research on adaptive Optics addresses the development of versatile and high-speed wavefront sensors, improved control of the deformable mirror, optimal systems integration of the AO setup, as well as improved operation of optical microscopes, particularly of scanning confocal microscopes for bio-medical research [I4, I6].

&nbsp
Fig. 8: Deformable mirror with piezoelectric actuators.


Adaptive Optics in Confocal Microscopy:
Scanning confocal microscopy and fluorescence imaging enables to record 3D-images of biological systems, such as cells, at high spatial resolution, which is important to gain insights at the bio-molecular level. Compensation of aberrations in the optical path, which are introduced e.g. due to the sample or variations in the thickness of the cover-slide that protects the sample, as well as improving the imaging speed confocal microscopes is a topic of ongoing instrumentation efforts. Our research resulted in the development of an automated adjustment system (Fig. 9) of the Scanning Confocal Microscope (SCM), based on an optimized parameter selection due to image quality measures (Fig. 10) and adjusting a correction collar that directly compensates the spherical aberrations in the imaging system for obtaining an optimal image quality (Fig. 11). This allows for a higher image resolution in confocal microscopy and, simultaneously, allows for imaging at a lower laser power and for faster imaging, both reducing the bleaching of the sample [I4].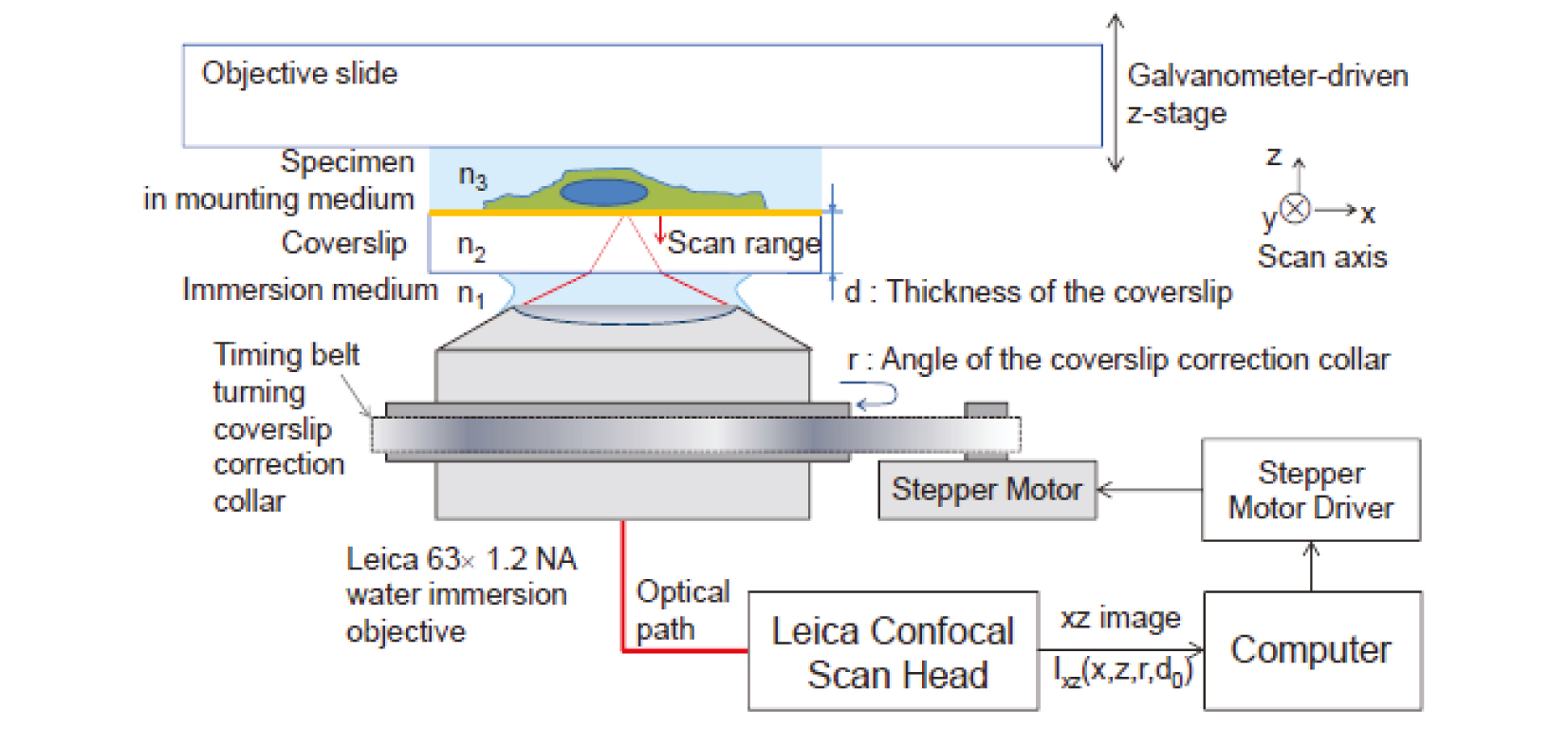 &nbsp
Fig. 9: Automated cover-slip (glass slide) aberration compensation setup for Scanning Confocal Microscopy (SCM). Focal depth of a tunable objective lens is controlled by a stepper motor through its cover-slip correction collar. By maximizing contrast and sharpness of acquired z-axial images systematically, SCM images at high resolution are obtained (Fig. 11).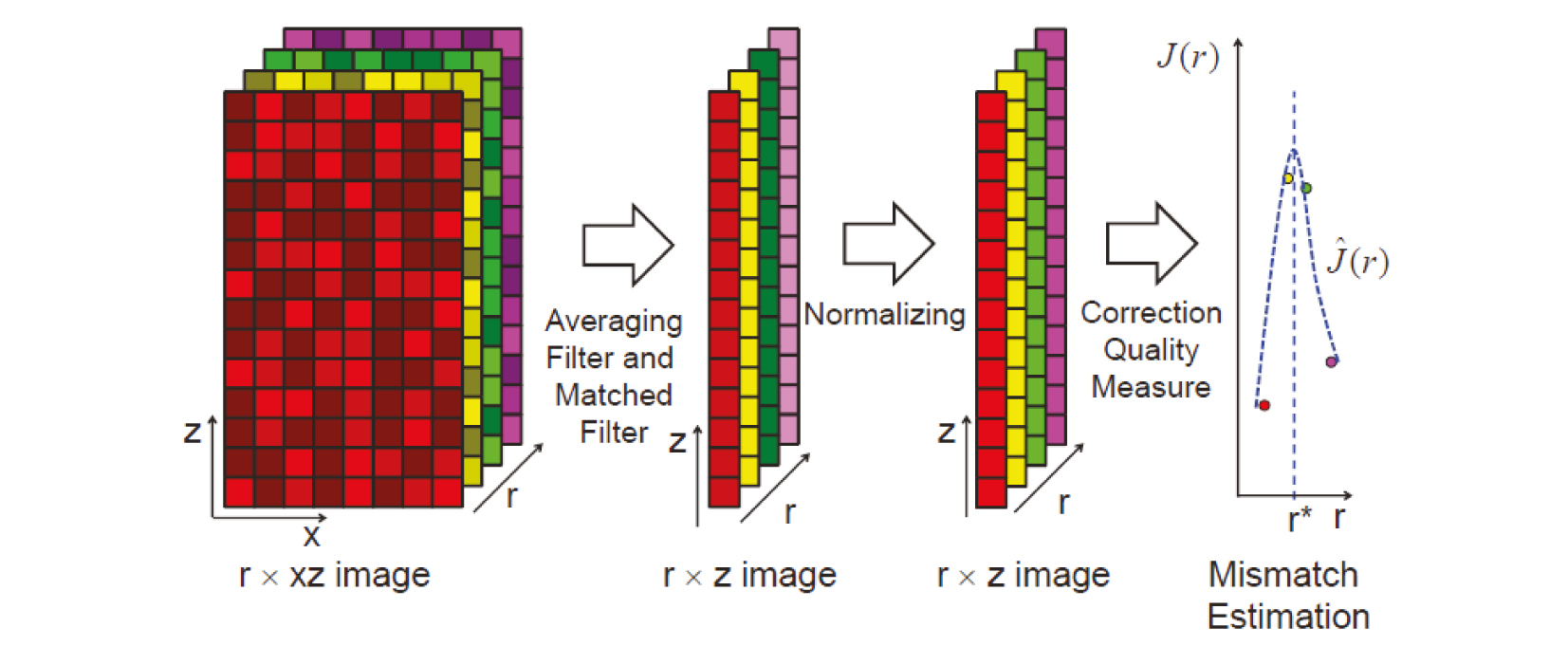 &nbsp
Fig. 10: Cover-slip correction automation process. From left to right, x-z images are first acquired at various correction focal depths, then after average filtering, matched filtering and normalizing, the correction quality is examined and optimized for best image quality.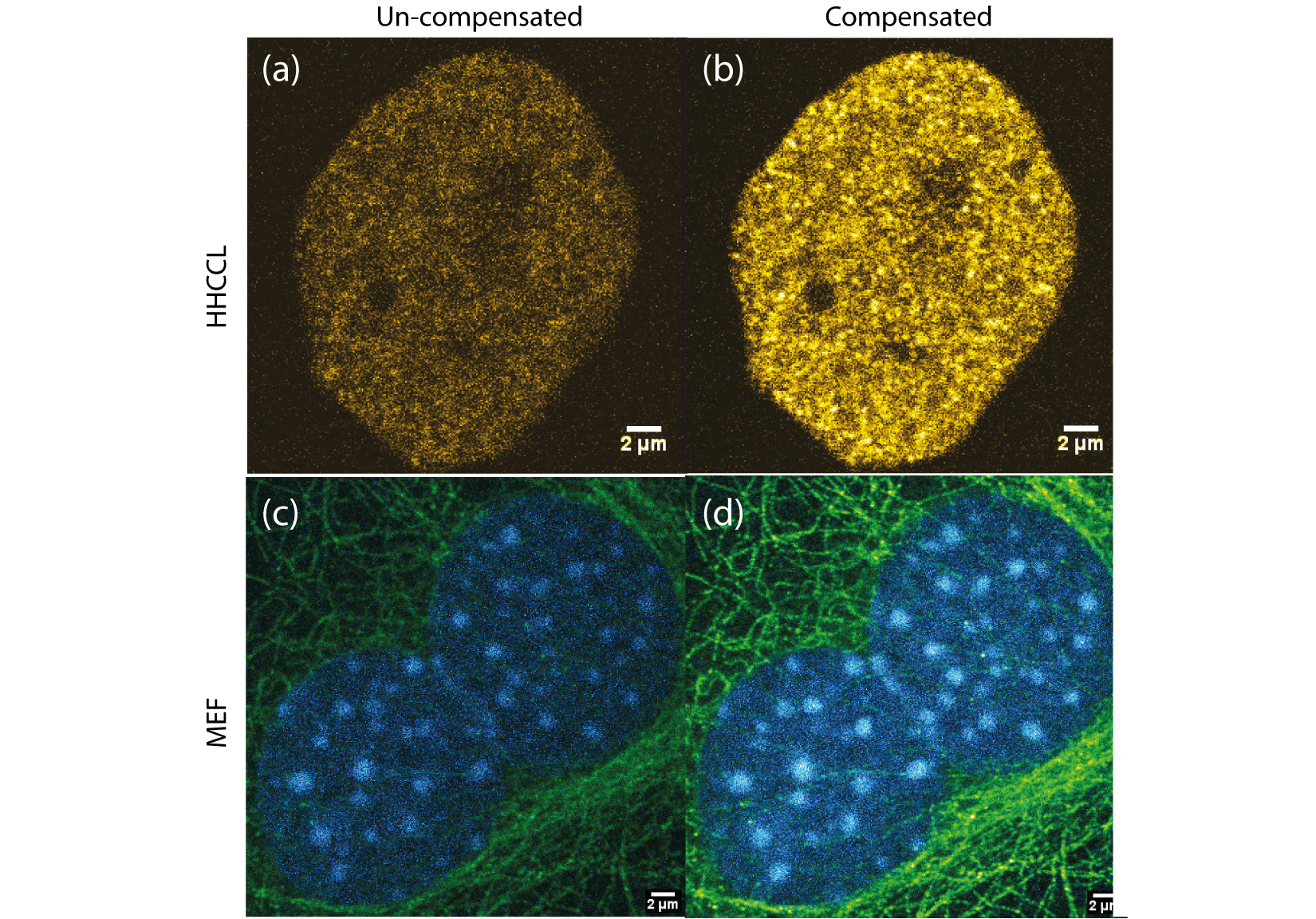 &nbsp
Fig. 11: Demonstration of the optimized image quality based on the automated adjustment of the SCM. XY fluorescence images of (a,b) human hepatocellular carcinoma cell line (HHCCL) and (c,d) fixed mouse embryonic fibroblasts (MEF) with chromatin and beta-tubulin, imaged by scanning confocal microscopy. Left: Spherical aberrations due to a mismatch of the coverslip-thickness degrade image resolution and sharpness. Right: Optimal adjustment of the confocal microscope by opto-mechatronic components allows for compensation of spherical aberrations, resulting in brighter and sharper images.


Smart Cameras and Embedded Systems:
In industrial applications precise and accurate measurements are not only required for characterizing "the small" but also at production and mounting of larger scale objects. Our research on Smart Camera Systems aims towards advanced imaging and precise measurements in production processes. Simultaneously, combining the camera based measurement system with higher resolution imaging techniques provides an extension of their measurement range, which particularly will be important for large scale production processes, e.g., in nanotechnology.

&nbsp
Fig. 12: Various components involved in industrial smart cameras.


Smart Cameras combine the optics and image sensor with embedded processors for fast and efficient computation of the image data and extraction of the information of interest. These intelligent components enable the realization of reconfigurable measurement systems that quickly can be adapted and optimized for the eventual application. This adaptation of the measurement platform even can be realized without hardware modification and without the need for additional system components. Our research aims towards new application domains of Smart Camera Systems, for industry-targeted, low-cost realizations of precision measurement systems.

&nbsp
Fig. 13: An incoming aberrated wavefront is spatially sampled by the microlens array (a), forming spots on an image sensor (b). Spots of an inclined wavefront (red) are displaced as compared to spots of an ideal plane wavefront (grey). Based on these measured wavefront gradients, the actual wavefront can be reconstructed.


One application of the Smart Camera is the development of a fast wavefront sensor for Adaptive Optics. In current AO applications the sampling rate and latency of the wave front sensor is the main limitation in the achievable bandwidth of AO systems [I3], where the most common method for measuring the wavefront is a Shack-Hartmann sensor that utilizes a microlens array in combination with a camera (see Fig. 12).
Our research focus here utilizes the Smart Camera, featuring a low-cost FPGA as a parallel processing platform, enabling the measurement and reconstruction of the wavefront (see Fig. 13 and Fig. 14) while adding only a latency of 700 nano-seconds to the image acquisition [I5]. This fast wavefront sensor and its further development provides a great potential for improving the performance of future AO systems.

&nbsp
Fig. 14: Results of a wavefront reconstruction with our low latency (740 ns) Shack-Hartmann sensor. We use a highly parallelized computation scheme on a low coast FPGA in an off-the-shelf industrial smart camera.


References:

[I1] P. Hansma, G. Schitter, G. Fantner, and C. Prater: High-Speed Atomic Force Microscopy, Science 314, p.601-602 (2006)

[I2] D. Kohl, G. Schitter, and U. Staufer: The Potential of Magnetic Force Microscopy for in-situ Investigation of Nanophase Iron in Lunar Dust, Planetary and Space Science, in press (2012)

[I3] H. Song, G. Vdovin, R. Fraanje, G. Schitter, and M. Verhaegen: Extracting hysteresis from nonlinear measurement of wavefront-sensor-less adaptive optics system, Optics Letters 34(1), p.61-63 (2009)

[I4] H.W. Yoo, M.V. Verhaegen, M.E. van Royen, G. Schitter: Automated adjustment of aberration correction in scanning confocal microscopy, 2012 IEEE International Instrumentation and Measurement Technology Conference I2MTC, 13.-16. May 2012, Graz, Austria, p.1083-1088 (2012)
This paper won the 2nd place in the best graduate student paper award (3 places awarded).

[I5] M. Thier, R. Paris, T. Thurner, and G. Schitter: Low Latency Shack-Hartmann Wavefront Sensor based on an Industrial Smart Camera, IEEE Transaction on Instrumentation and Measurement, in press (2012)

[I6] H.W. Yoo, S. Ito, M. Verhaegen, G. Schitter, Iterative learning control of a galvanometer scanner for fast and accurate scanning laser microscopy, in Mechatronics 2012, September 17 - 19, 2012, Linz, Austria, p. 537-543 (2012)