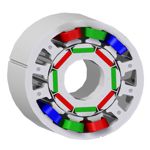 Modeling and optimal control of permanent magnet synchronous motors
Project focus
Magnetic equivalent circuit modeling of permanent magnet synchronous motors (PMSM)
Systematic incorporation of magnetic saturation and non-sinusoidal field characteristics
Optimal torque control
Sensorless methods for the position estimation of PMSM
Description
Permanent magnet synchronous motors (PMSM) are applied in many industrial applications as e.g. robotics due to their high torque capabilities and their high energy efficiency. Field-oriented control is the industrial standard for the control of PMSMs. This control strategy is based on a transformation of the angle-dependent quantities of the PMSM on a dq0-coordinate frame which is fixed with the rotor. The design is typically based on the assumption of magnetic linearity and sinusoidal field characteristics of the PMSM.
Modern motor constructions frequently apply single tooth windings and an inhomogeneous air gap. This results in PMSMs where the assumption on a sinusoidal field characteristics is more or less violated. Moreover, PMSM are frequently operated up to regions with significant magnetic saturation. Thus, the assumption of the classical field-oriented control are frequently more or less violated in many practical applications.
In this research cooperation with Bernecker and Rainer Industrieelektronik GmbH (B&R), methods for systematic mathematical description of PMSMs with pronounced magnetic saturation and non-sinusoidal field characteristics are examined. Here, the magnetic equivalent circuit modeling (MEC) approach, which is based on an approximation of the magnetic system of the PMSM by magnetic resistances (reluctances) and magneto-motive force-sources (coils, permanent magnets), see Fig. 1.
Network theory, which is well known from electric circuits, is utilized to systematically obtain the mathematical model for arbitrary motor construction with rather complex magnetic equivalent networks, see, e.g., Fig. 2. Moreover, it is easily possible to systematically include magnetic saturation and non-sinusoidal field characteristics.
The resulting MEC-models feature a rather low model complexity, which makes them suitable for a model-based design of control strategies. In this research project optimal control strategies for the indirect torque control of PMSMs, while minimizing the losses of the PMSM at the same time, are developed. These control strategies allow to significantly improve the torque control accuracy in comparison to a classical field oriented control strategy (dq), see, e.g., Fig. 3.
The model-based approach allows to easily adopt the control strategies to other construction sizes and types of PMSMs. In particular, the control strategies can also be applied to linear motors. Moreover, the developed mathematical models are a good basis for the sensorless estimation of the position of PMSM.
Selected publications
Project partner