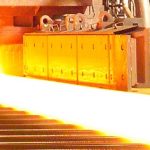 Lateral guiding and shape control in heavy plate rolling
Project focus
Modelling of shape evolution and off-centering of heavy plates
Development of a realtime plate contour measurement system
Design of control strategies for reduction of shape errors
Description
In steel mills, slabs are rolled out to heavy plates with a certain plate thickness using reversing mills. During this process, unwanted geometrical deviations with respect to the vertical axis of the plate (camber) can occur. Furthermore, the plate movement through the rolling gap can differ from the desired straight movement. Steadily increasing demands on the product quality require to minimize these imperfections.
To simulate the occurrence of camber during the rolling process, tailored mathematical models are used. A formulation based on continuum mechanics predicts the residual stresses and the evolution of the plate contour using the plastical deformation caused in the rolling gap. By means of these models, the impact of several factors on the formation of camber can be analyzed and potentials for optimizing the mill stand can be identified.
For the detection and characterization of camber, a vision based system is used. In addition to the shape of the plate, its movement during the rolling pass is determined in realtime. The implemented measurement methods have to withstand unfavourable environmental conditions. Furthermore, ensuring a realtime capable measurement is another challenge.
Based on the camber model, control and optimization algorithms for the reduction of an existing camber are designed. To this end, several control inputs of the mill stand can be used to ensure that additional product requirements (e.g. plate thickness) are satisfied and that off-centering is avoided.
The developed solutions have been successfully implemented on a heavy plate rolling mill and are now permanently used.
Selected publications
Applications
Automation of rolling mills
Continuous production processes